Multicolor Tshirt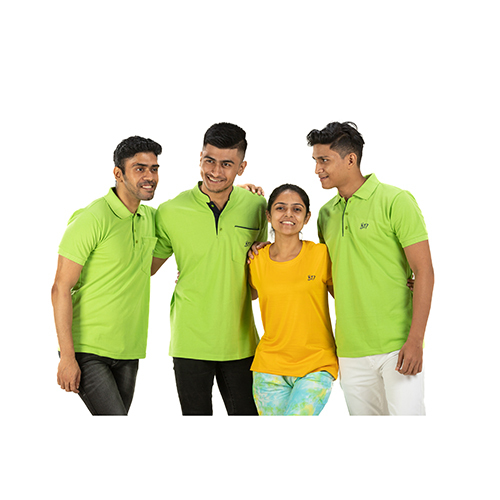 Multicolor Tshirt
Price And Quantity
Piece/Pieces

100.00 - 210.00 INR
Product Specifications
Product Description
A T-shirt with a design or pattern that incorporates numerous colours is known as a multi-color T-shirt. These T-shirts are distinguished by vivid and striking colour choices that together provide a dynamic and expressive aesthetic. Consider the following important factors while buying multicoloured T-shirts:
Design & Patterns: There are many different designs and patterns that may be used on multi-color T-shirts, from elaborate graphics to bold and abstract prints, geometric shapes to floral themes, and even tie-dye patterns.
The employment of multiple colours enables the creation of distinctive designs that are unique and visually appealing.
1. Colour Combinations: Multicolor T-shirts combine two or more hues, which may be complementary or in opposition to one another. The T-shirt's general theme or style and desired effect both influence the colour choices. Primary colours, pastel hues, neon tones, earthy tones, or a blend of bold and brilliant hues are just a few possible colour combinations.
2. Fabric and printing methods: A variety of textiles, such as cotton, polyester, mixes, or specialised fabrics, can be used to create multicoloured T-shirts. Depending on the design and fabric, many printing methods may be employed, including screen printing, DTG printing, heat transfer printing, and sublimation printing. The chosen method should guarantee that the fabric has brilliant, long-lasting colours.
3. Multi-colored T-shirts come in a variety of fits and styles, including crew neck, V-neck, and polo collar options. The T-shirt's intended usage and personal preference will determine the style. Different fits, such large, thin, or conventional fits, might improve the overall appearance and comfort.
4. Versatility: There are many different ways to style T-shirts with several colours. To make the T-shirt stand out as a statement piece, they can be worn with solid-colored bottoms like jeans, shorts, or skirts. For a bolder and more eclectic style, you can also pair them with other colourful or patterned clothing.
5. Individual Style and Personal Expression: Multicoloured T-shirts offer a platform for both. The colourful and expressive colours and designs enable wearers to convey their individuality, interests, or support for particular causes or movements.
6. When choosing a multicoloured T-shirt, keep things like the fabric's quality, the colours' longevity, and the shirt's overall design in mind. It's crucial to select from trusted manufacturers or vendors recognised for their excellence in design and craftsmanship.
For people looking to express themselves aesthetically and stylistically, multicoloured T-shirts provide an attractive and expressive option. They give clothes colour and life, letting wearers to express their individuality and inventiveness.
Contact Us
254, Nabalia Para Road, Basisha, Gr. Floor, Flat No. G2, Near Behala Chowrasta, Pulse Diagnostics,, Kolkata, West Bengal, 700008, India
Phone :+918037403634