Dry Fit T-shirt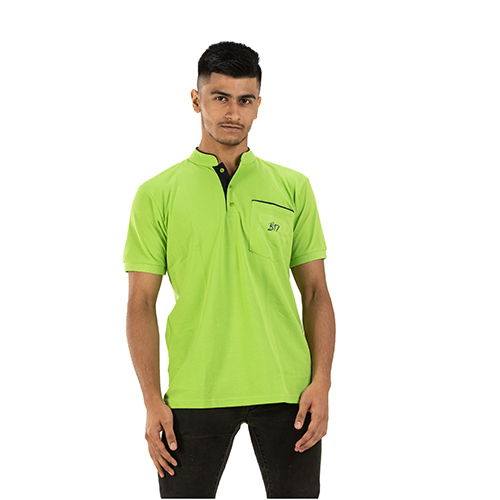 Dry Fit T-shirt
Price And Quantity
Piece/Pieces

85.00 - 110.00 INR
Product Specifications
Product Description
A performance shirt that keeps the user dry and comfortable when engaging in physical activity or in warm weather is referred to as a dry-fit T-shirt.
Here are some essential characteristics of a dry-fit T-shirt:
1. Fabric: Synthetic fabrics like polyester or nylon are commonly used to make dry-fit T-shirts. These materials are renowned for their ability to drain moisture away from the skin and allow it to quickly evaporate, keeping the wearer dry and cool.
2. Dry-fit T-shirts frequently have superior moisture-wicking technology, which helps transport perspiration away from the body and to the fabric's outside surface, where it may more easily dissipate. This technology aids in controlling body temperature and shields against discomfort brought on by excessive sweating.
3. Breathability: Dry-fit T-shirts are made using materials and construction methods that promote airflow, improving ventilation and promoting perspiration evaporation. This keeps the wearer feeling cool and energised while engaging in vigorous activity.
4. Quick-Drying: Dry-fit T-shirts' ability to wick away moisture is another factor in their speedy drying time. Compared to conventional cotton T-shirts, the T-shirt dries quicker as sweat is drawn away from the body where it may evaporate more quickly.
5. Dry-fit T-shirts are often lightweight, which makes them easy to wear for long periods of time. There is more range of motion during exercises thanks to the usage of textiles that are frequently soft, smooth, and elastic.
6. Versatility: Dry-fit T-shirts are appropriate for a range of physical activities, such as running, hiking, gym workouts, sports, or any circumstance where comfort and moisture control are sought. Because of their ease and athletic appearance, they are also well-liked as casual clothing.
Considerations for choosing a dry-fit T-shirt include the fabric, fit, and design. To assure the moisture-wicking capabilities and general toughness of the T-shirt, look for trusted companies that specialise in performance wear.
For people taking part in physical activity or looking for a lightweight, moisture-wicking clothing for warm weather, dry-fit T-shirts provide a useful and pleasant option. Athletes, fitness enthusiasts, and others leading active lifestyles favour them because they may keep the wearer cool and dry.
Contact Us
254, Nabalia Para Road, Basisha, Gr. Floor, Flat No. G2, Near Behala Chowrasta, Pulse Diagnostics,, Kolkata, West Bengal, 700008, India
Phone :+918037403634